The K12 Online Conference

The "K12 Online Conference" is for teachers, administrators and educators around the world interested in the use of Web 2.0 tools in classrooms and professional practice! The 2007 conference is scheduled to be held over two weeks, October 15-19 and October 22-26 of 2007, and will include a preconference keynote during the week of October 8. The conference theme is "Playing with Boundaries."
Alabama Best Practices Center

The Alabama Best Practices Center

This will be an ever evolving resource that all of us can help to build. It served as your virtual handout page, giving you access to all the resources that were shared as part of the 21st Century Octoberfest in Birmingham, Ala. and as your "go to" resource throughout this year's work with the ABPC 21st Century Teaching and Learning Project. If you are a guest, welcome! Hope you enjoy the tour!

I Now (Access Your Child's Grades and Attendance)

I Now (Access Your Child's Grades and Attendance)

The system used to check grades, attendance, etc. has changed this year from STI Home to INOW (Information Now). This upgrade provides an opportunity for parents and/or guardians to become even more involved in their child's education through the use of system portal. A link to the INow Parent Portal is on our school websites in the Quick Links section or you can type this URL into your web browser - https://portal.bessk12.org.

Parent Portal is an integrated component of INow through which parents can view the following information:

· Attendance details, including Date, Term, Periods, Level ( All Day, Tardy, ), Reasons (Excused,Unexcused), Notes, and all check–in/out records

· Progress reports, report card grades, class averages, individual class activities and unofficial transcripts

· Student schedule by term

· School calendar and announcements

· Demographic information from the student's record as well as discipline information(including date, infraction, disposition)

· Each parent may have only one login regardless of the number of children enrolled in the district or a login for each student by school

· Each parent or guardian can have his/her own unique log-in (contact your school office to request additional log-in information)


At the beginning of the school year, you should have received a user name and password during open house to inform you of the changes to INow and your unique username and password to access your child's information online. Below are directions to utilize the resources on INow or you can click on the following link to watch a short video demonstration. http://support.sti-k12.com/documentation/tutorials/ViewVideoTutorials.asp?getvideoid=82


Directions

1. Open your web browser and enter https://portal.bessk12.org in the URL/address bar.


2. Enter the username and password from the e-mail given at the beginning of school at open house and select Login. Your password must contain a combination of at least 8 characters, including at least one number. The first time you login, you will be required to change the password. Please write down your new password. You will need it every time you login.


If you receive an error about your username, call your child's school for assistance.

3. Once successfully logged in, the Information Now (INow) Homepage will appear.


4. Using the blue navigation on the left-hand side, browse through attendance, demographic, grades, comprehensive progress report, report card, standards report card and settings.


5. Attendance – Select Attendance on the navigation to view a list of days the student was absent or tardy and if they are listed as excused or unexcused.


6. Demographic – Select Demographic on the navigation to review information such as state ID number, contact information, etc.


7. Grades – Select Grades on the navigation to view your child's current average. INow updates data that was entered during the day every evening at midnight. To view more details about the grade in a specific class, select the blue box with an A in it to review every assignment's details and individual scores. If you have a question concerning grades, contact your child's teacher.


8. Reports – Comprehensive Progress allows you to view a detailed report of all classes with individual assignments/grades listed.


9. Reports – Report Card displays the average for each class for the grading period selected.


10. Reports – Standards Report Cards are for Elementary Students only.


Adobe Acrobat Reader is required to view this and other reports. You may download a free Adobe Reader by following the downloads link on the Homepage at http://www.adobe.com/products/reader/


For questions concerning the data such as demographic information, grades, or attendance, please contact the school office.

Abrams Elementary: 432-3100

Charles F. Hard Elementary: 432-3300

Greenwood Elementary: 432-3200

Jonesboro Elementary: 432-3400

Westhills Elementary: 432-3500

Bessemer City High School: 432-3700

Technology in Motion provides job-embedded professional development for teachers to promote the use of technology in teaching and learning. The program offers services, materials and training that support teachers' professional growth in effective teaching practices, the creation of technology-rich learning environments and project-based learning.

Mission: To provide professional development that enables educators to become and remain proficient in the use of technology so they can better facilitate learning.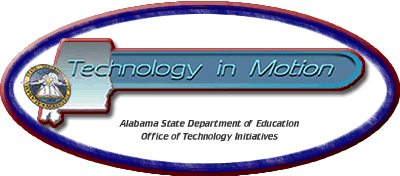 Technology Links

Alabama Learning Exchange

ALEX, a project of the Alabama Department of Education, is designed to index and share many types of educational materials and information through a time-saving, one-stop resource for educators, parents, and students. The majority of these rich resources (lesson plans, Web links, and interactive activities) are located and connected to the Alabama Courses of Study by National Board Certified Teachers. By sharing the wealth of expertise and knowledge now available through ALEX, Alabama's best educators, and the youth of Alabama are poised to benefit from the best of the Web!
The Alabama Virtual Library provides all students, teachers, and citizens of the State of Alabama with online access to essential library and information resources. It is primarily a group of online databases that have magazine, journal, and newspaper articles for research. Through the AVL, an equitable core of information sources are available to every student and citizen in Alabama, raising the level of excellence in schools and communities across the state.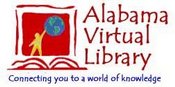 ALSDE-Technology Initiatives
Serves as a single point of contact in school system technology planning. This office implements the Alabama Technology Plan for K-12 Education, provides support and assistance in filing for E-rate discounts, leads the ACCESS distance learning program, and supports LEAs in technology planning.
It is responsible for administering Federal Grant Programs for Technology, responding to requests from organizations and agencies needing technology data, and maintaining a database of technology compiled from yearly survey reports.
The Technology Initiatives office coordinates and implements all aspects of the Alabama Educational Technology Conference. Its mission is to use technology as a tool to prepare the student of today to become a productive, contributing citizen of tomorrow.

Think Infinity: Marco Polo Internet for Classroom

Thinkfinity is built upon the foundation's flagship education program formerly known as Verizon MarcoPolo, and the foundation's comprehensive online resource for literacy, the
Thinkfinity Literacy Network.

Thinkfinity reflects the Verizon Foundation's goal of truly making a difference in the lives of students, teachers, families and the communities in which they live and work. We are doing this by supporting quality educational resources and programs that enable lifelong learning and growth. We are fortunate that our Content and Literacy Partners in this endeavor are the premier organizations in seven K-12 academic subjects and in literacy instruction, along with outstanding organizations and institutions across the country that serve as Rollout Partners to take Thinkfinity into schools, literacy programs and communities nationwide. Through our collaboration and work, we deliver the highest quality, standards-based and research-based educational and literacy resources to teachers, instructors and students.

Technology Tutorials

Microsoft Tutorials

Learn how to use and integrate Microsoft software in the classroom with in-depth, step-by-step tutorial guides for students, teachers, and staff.

Tutorials have been developed for a variety of Microsoft Office, Windows, the Microsoft Office Outlook messaging and collaboration client, and Microsoft Exchange products and technologies. Also see our special guides just for educators.


Technology Tutorials 1

"PortableApps SuiteTM is a collection of portable apps including a web browser, email client, office suite, calendar/scheduler, instant messaging client, antivirus, sudoku game, backup utility and integrated menu, all preconfigured to work portably. Just drop it on your portable device and you're ready to go."