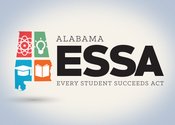 A Glimpse at Federal Programs
Welcome to the Federal Programs page for Bessemer City Schools. In the Federal Programs office, we strive diligently to follow all components and intentions of the Every Student Succeeds Act (ESSA), which takes full effect during the 2017-2018 school year. In accordance with ESSA, we provide oversight planning and budgetary reviews of expenditures related to Federal Awards and Grants to 7 public schools and 2 private schools in the Bessemer City School District. The private schools that we serve are St. Aloysius Catholic School and New Life School of Excellence. The Every Student Succeeds Act is based on stronger accountability for results, more freedom for states and communities, proven educational methods, and more choices for parents.
Federal Programs manages the following programs:
Title I School-Wide Schools:
GOAL
The Bessemer City School System receives funding from the Federal government to administer programs under its mandate. The primary goal of Federal Programs is to improve student achievement through increased parental engagement, teacher training, and student services while providing technical assistance to schools.
MISSION
The mission of Federal Programs is to promote student achievement and preparation for global competitiveness by fostering educational excellence and ensuring equal access.