« Back to news list
National Bow Tie Day!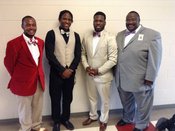 Looking Dapper!!!
Posted On: Wednesday, September 07, 2016
Charles F. Hard Elementary celebrated National Bow Tie Day in a super way! Our boys and men wore their bow tie's looking dapper. We also had a special visit from the Superintendent and one of Bessemer City Councilmen.