« Back to news list
Your Library Card: The Smartest Card! Get it! Use it @ your library!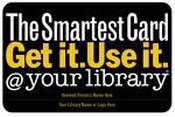 Get Your Own Library Card
Posted On: Saturday, September 01, 2012
Jefferson County Library Cooperative: Public Libraries of Birmingham/Jefferson County
Telephone Renewals: 226-3790
Website and Catalog: www.jclc.org
One County One Library Card
For your convenience, directional maps to public libraries in Birmingham/Jefferson County are available at all public libraries in the county and online at http://www.westhillselementaryschool.com/Admin/Highlights/www.jclc.org
Storytelling Traditions are programs especially designed for a variety of age levels to promote the arts and culture. These programs are held at various libraries countywide. Look at the calendar of events to find one you are interested in.
At the Bessemer Public Library, Storytime is every Wednesday from 9:30-10:30am. Join Ms. Priscilla every 2nd and 4th Wednesday for stories, songs, finger plays, and fun.
Storytelling Traditions at the Bessemer Public Library is the 1st and 3rd Wednesday of every month from 9:30-10am Contact the library for additional information.
At the Bessemer Public Library, there is a Day Book Club and a Night Book Club. Contact the library at 428-7882 for additional information.
Brown Bag Lunch Programs are held at the Birmingham Public Library: Central . No reservations are needed. Programs are free and open to the public. These programs are held Wednesdays at 12noon in the 3rd floor Arrington Auditorium of the Linn-Henley Building. The library provides beverages. For additional information, please call 226-3604.
Audio Book Downloads are available.
What you want, when you want, where you want!
Browse and search a collection of audio book titles and download them to your computer, then transfer to a MP3player, or burn select titles onto a CD to enjoy when you want, where you want. Over 1500 titles to choose from. Automatic return, No late fees. http://www.westhillselementaryschool.com/Admin/Highlights/www.jclc.org
WANTED: YEARBOOKS The Bham. Public Library is seeking donations of high school yearbooks from the Birmingham area. If you would like to donate annuals for the library's permanent collection, call 226-3728
Why do you need a library card? What are the benefits for me???
1. Why buy when you can borrow? Your public library is a goldmine of books, magazines, movies, CD's, and other great stuff.
2. Need homework help? Encourage your child to ask a pro- your librarian.
3. Make learning fun. Check out reading clubs, story hours, movies, and other free programs for kids and families.
4. Free@ your library. Most public libraries provide computers and classes for kids to use, mom and dad, too.
5. Keep kids reading. The more kids read, the better they do in school Your library has something for every age and interest.
6. Look, Listen, and Enjoy. Borrow films and music for the whole family.
7. If you don't see it, ask! The library may be able to get it for you.
8. Bring the whole family! How many places can you all enjoy together? For free!!!
9. Remember, learning begins at home. See your library's parenting collection for tips on how you can be your child's first and best teacher.