Welcome to the Department of Student Services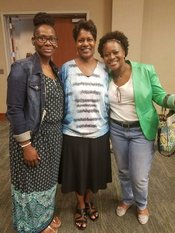 Tamara Oliver-Jackson, Barbara McCoy and Valerie Love-Simmons attending the 2nd Annual Critical Issues for Alabama School Counselors Conference at Birmingham Southern College (September 23, 2016)
The Department of Student Services is designed to identify and facilitate activities, programs, and services that will enhance student educational development and assist in providing students and school personnel with a safe and orderly environment so that effective teaching and learning may exist. Responsibilities of the Department include:
· Coordinating health education and health services in the district by collaborating with the Jefferson County Health Department, State Department of Education, and Alabama Board of Nursing. Appropriate health services are provided to students, along with health-related training for district personnel.
· Supervising the counseling and guidance program in the district, coordinating the implementation of the Bessemer City Schools Comprehensive Guidance and Counseling Plan, and developing a Professional Develop Plan for Counselors.
· Coordinating the testing program within the district.
· Organizing a textbook committee to select the appropriate textbook for the next academic year, seeking Board approval of the adoption, and coordinating the ordering of adopted textbooks for the district.
· Establishing a system for monitoring the number and condition of textbooks in the schools and textbook depository and ensuring the equal distribution of textbooks throughout the system.
· Supervising the schools' development of student and staff handbooks.
· Supervising the development and implementation of the district Character Education Program.